About Sparkle Office Cleaning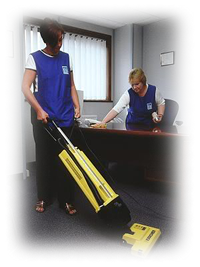 With over 30 years of experience in the Janitorial service industry. Sparkle Cleaning Services takes worry out of your cleaning needs. You will see the difference when you arrive the next morning, knowing that your facility has been clean throughly each and everytime. Our cleaning crews have the skills to do the job correctly. We train each team member with the help of videos and class room settings. The latest advance methods and any additional training when it becomes necessary. We can setup a communication log book to anticipate any needs or concerns you may have in addition to the web, email, or phone. Also as new technology progresses we utilize the latest in equipment and chemicals to do the job safety effectively. Sparkle Cleaning also offers "The Green Clean System" which offers environmentally safe non toxic chemicals, HEPA filtered vacuums cleaners which trapped 99.97% allergens, and (non propane) high speed electric floor polishers.
Sparkle Cleaning utilizes a group of trained and trustworthy workers who are experienced in commercial cleaning. Management works closely with each team member to train in the proper methods of cleaning on a consistent basis. Each member is taught the values of honesty and dependability. Whether a small or large facility, our staff is equipped to handle a variety of cleaning tasks.